Principles of Accounts Tuition
Principles of Accounts (POA),When will i see the light of it?
Principles of accounts (POA) had been a struggle for some students. As an ex principles of accounts students myself, I truly empathise with some of my students. The feeling of dejection and wanting to give up on it all sets in. Principles of accounts seems so complicated with all the rules and concepts that it became too much for the students to handle. Read the questions below. Are you or your child experiencing either of these situations? 
✔ Do you find yourself or your child piling with the Principles of Accounts (POA) assignments and homework of which you or your child couldn't grasp what was going on?
✔ Is your child or you realizing that memorizing the formats of Principles of Accounts (POA) is too overwhelming and is not a solution at all?
✔ As the O and N levels are coming soon and panic struck fear in your child or you,  do you see your child or you breaking down? 
If it is "Yes" to either of these, read on………. 
Fret not, you are not the only one in this......
Let me assure you that there is hope and help is coming your way!
Many students struggle to understand Principles of Accounts (POA). Your child or you had not been exposed to business concepts and this is the very first time you are learning these concepts in secondary school. Therefore, it is perfectly normal for your child or you to struggle in it.
Memorizing formats of Principles of Accounts (POA) does help to a certain extent but this method had never been the best way to score in this subject. Your child or you would be lucky to score a pass based on memorization, provided you had an elephant brain for memory.
Over the last 11 years in the line of coaching POA students, I had derived my personal method of teaching Principles of Accounts (POA). My objective is to deliver complex accounting concepts to your child or you via basic everyday life examples.
For example, when we save up money to buy something that we want, we need to calculate how much we need to save and put aside as savings after deducting expenses (money spent on that USS Sentosa theme park or on that fast food meal) from our income (Allowance from parents or salary from part-time work). Any positive savings would mean that we made 'Profits'.
Through this logic understanding method, your child or you can relate to accounting concepts and slowly digest and see how it links to the your POA syllabus. Together with your child or you, my aim is to improve your results and aim for that A in your final exams!
My sessions are delivered using my developed guides which will enable students to learn from another angle and to "see the light" by looking at things out of the normal classroom teachings.
I contrast the learning concepts with everyday life and to show examples in the real world context to bring POA into life.
As a firm believer of "no one is stupid enough to not able to handle POA", through sheer hard work and determination, improvements can be made regardless of how bad your results are.
If group coaching is not for you, individual coaching is available face to face. Venue should be at student's premise. Public places are not recommended. 
In terms of learning efficiency, there is not much difference for  face to face group or individual learning as time will be allocated to the individual students in the group for 1 to 1 consultation. Thus, students in group can still enjoy the perks of individual coaching. Moreover, fees will be charge higher than group and individual online coaching. 
If an individual coaching experience is what you require but not willing to pay the fees for face to face, individual online tuition can be provided via Zoom platform.
Students had learnt the ropes and experience of Home Based Learning, thanks to Covid-19. Students should be verse in learning POA via Zoom. In addition, the past few months of online tuition had proven to be quite efficient for POA in my opinion. 
Nothing says it better than to hear it from the students themselves
I just started my POA tuition with Felix in sec 4 because I was failing terribly & was super dreaded to study the subject. After having my sessions with Felix, he assured me and taught me patiently from the start. Moreover, he taught me many alternative way & tricks to tackle the questions. This changed my perspective of POA and he made it so much more enjoyable! You'll definitely not regret after taking his lessons!
I started learning POA accounts with Felix since 2019. My grades jumped from F9 to B4 within a few months of learning. My school teacher noticed the difference in me and praised me for my improvement. I believe that with his help in POA tuition, anyone can improve his grades drastically.
I had been enjoying my POA principles of accounts with Felix. He taught me since 2019. Definitely my grades had improved otherwise, I would not had continued with him. I am looking forward to getting my As this year!
I had been learning from Felix since 2019 and had been doing so. My Principles of Accounts had improved from Fs to Bs within a few months
I started learning POA accounts with Felix since 2018. My results was F9s and within a year i managed to get A2 for my N level in 2019. I hope for the same or even better this year for my O levels.

Started lessons with Felix since 2018 and achieved As during my N Levels results. Will be doing my Os and aiming to get better. Felix listens and teaches with patience.
Felix had been teaching me since my N levels in 2019. I had been failing before learning from him. After months of drilling, i got my Bs from N level. My mom commented on the 'investment' well made as i had never passed POA before.
Previous student who Top in school for POA

Praises from students and parents
This is what keeps me going on in this teaching journey……..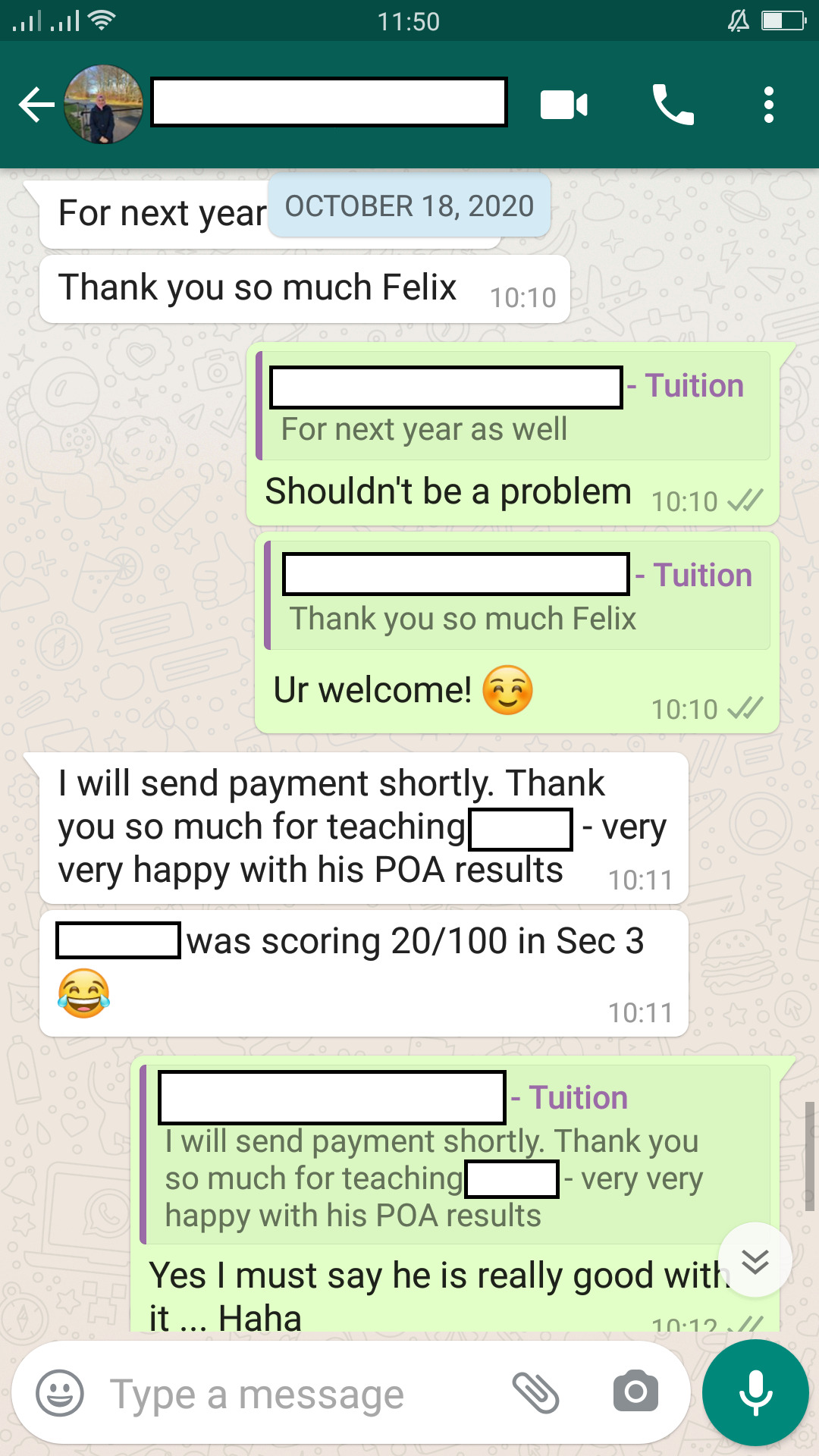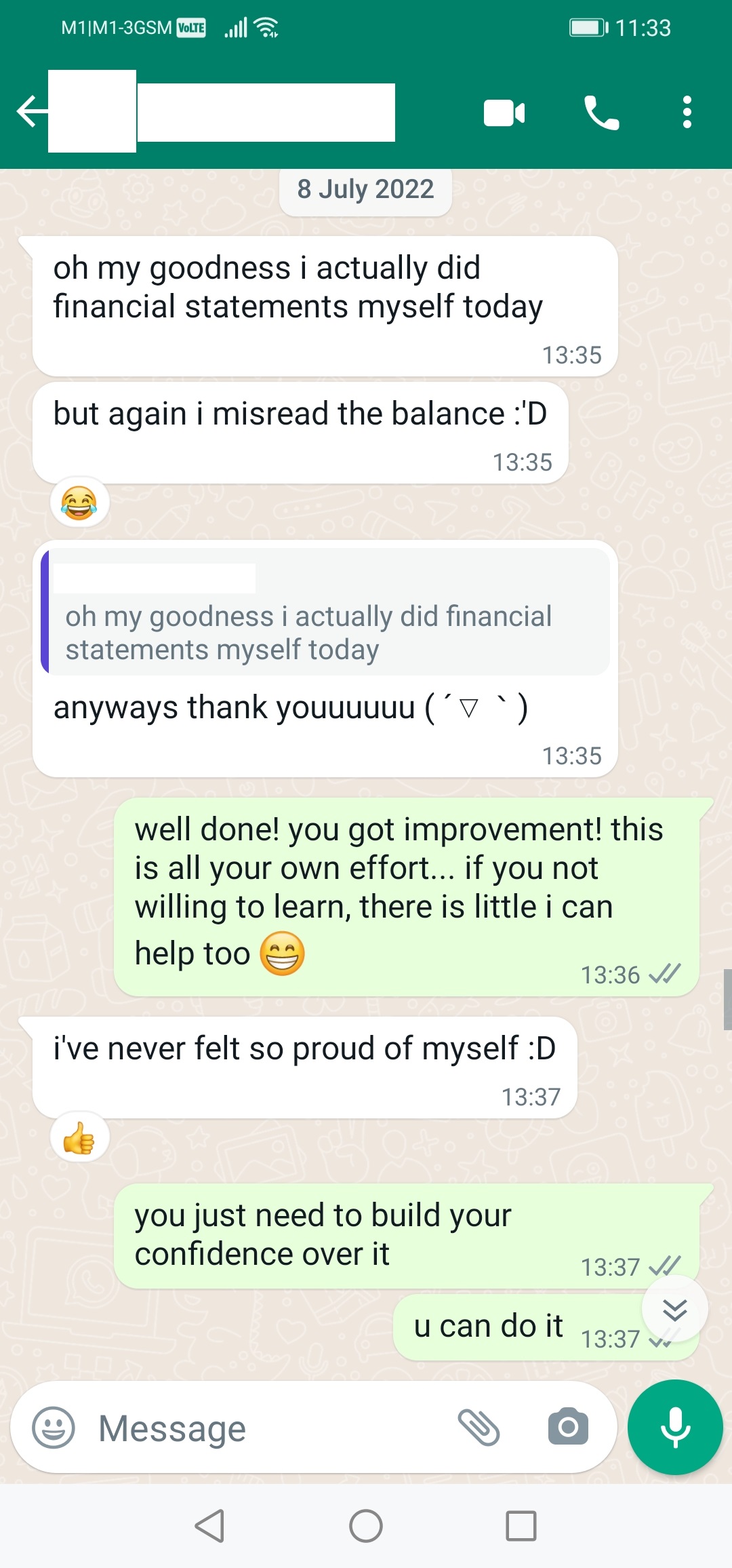 Check out the information below to know more about GCE 'Cambridge' Principles of Accounts POA syllabus and exam